Posted on
By Taylor Rasmussen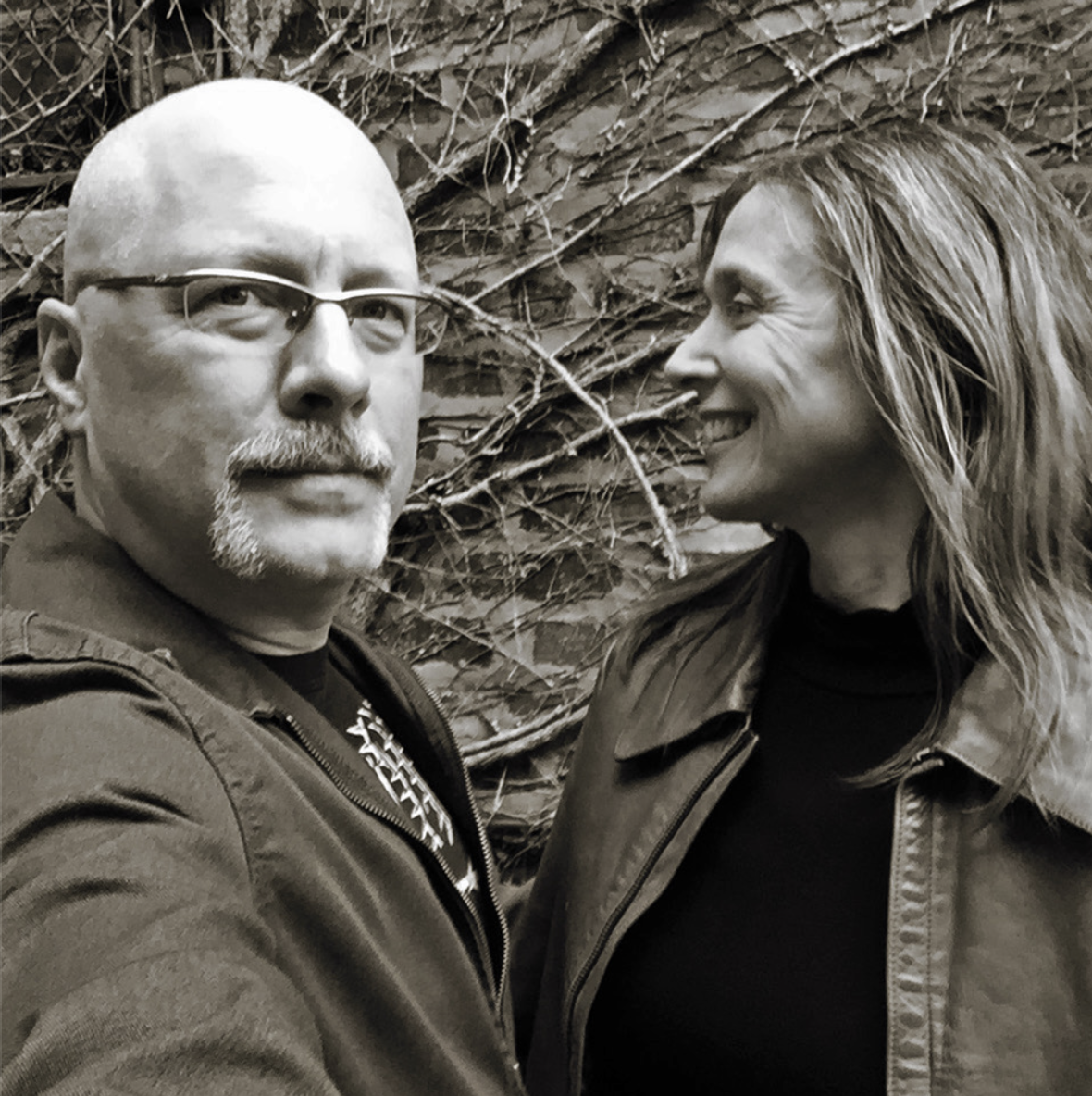 This week we're chatting with artists Linnea Gits and Peter Dunham about Tarot, their artistic processes, and their inspiring surroundings.
First things first, tell us a bit about yourselves! Where are you from, and what are your star signs? 
Peter and I are both artists working in the field of design. We grew up in the western suburbs of Illinois in the USA and spent most of our lives living and working in Chicago. Peter received a BFA at Northern Illinois University, and we met the summer after his graduation in Chicago. At that time, Peter had a small art studio in the West Loop, and I began apprenticing with him for sculpture and painting. We started dating and eventually moved in together and found a great space - a vast, light filled loft that was once a furniture factory - in a very industrial part of the city that became our home and studio. Close to downtown, low rent, and located in a remote area of the city, this space gave us the freedom to grow our artistic ideas unhurried by the marketplace.
Along the way, our art practice merged with design, and in 2010 we launched Uusi with the idea that life was worth the meaningful effort, and its reward was one of discovery. Within a year of our studio's launch, we had established Uusi as a creative identity in our hometown of Chicago. A few years later, the wildly successful launch of our Pagan Otherworlds Tarot in 2016 introduced our work to people all over the world. We continued our journey within the Tarot world with a loyal and growing client base for esoteric content and objects, adding an Oracle and two more Tarot decks to our published titles. Working with the Tarot and the creative community surrounding it has been one of the most rewarding experiences of our lives. 
In 2017 we decided to relocate to an area that we had long dreamed of calling home: Michigan's Upper Peninsula. We traded the city's fast pace and social energy for a slower life in the forest. It was a move that matched our spiritual exploration and has brought us an enormous amount of joy. We now spend our workdays surrounded by deep woods, nine acres of which holds a clearing for rolling farmland where a small dairy farm, built by a Finnish settler in the late 1880s, sits alongside a wandering creek. We knew the minute we saw it, that we were home and purchased it without a second thought. We are taking time, between art and design work, to carefully restore the hand-built, square-hewn farmhouse that is now our home and studio back to its original, humble beauty. Working on this old farm feels sculptural and sacred and feeds both our body and soul - good for anyone, and most definitely for this early Leo (Peter) and Sagittarius (Linnea).
Where were you first introduced to Tarot and Oracle, and what inspired you to start creating decks? 
Peter has been collecting old playing card decks and tarot cards for years. He loved the imagery and the quality of vintage decks, and we often used them as inspiration for design projects we were working on at the studio. In 2012 we began a playing card series, and that naturally led us to the Tarot. We loved the meaningful content of the Tarot and how it accessed our minds and our hearts with the creative language of the soul. It is the search we are all on, the individual story that mingles with the ordinary magic of the world to reveal our most authentic self which, in turn, makes us feel most alive. 
Is there a particular deck that you are most proud of, or a specific card that you are really proud of designing?
We are proud of all of our decks! But we definitely have favourite cards from each one. Strength, The Tower, and Death from Pagan Otherworlds. The Lovers from Eros: The Garden of Love. The element cards and The Secret cards from Supra. The Transactinides from Materia Prima that join to create a tableau that nods to Durer's masterful, Melancholia engraving. These are just some that stand out whenever we work through the decks, but every card has its creation journey, both enjoyable and painful and sometimes even surprising, but ultimately rewarding. 
How does the artistic process for creating Tarot and Oracle differ from your artistic process when creating less spiritual designs?
We have always worked with a great deal of intuitive direction. Color, form, and hand-drawn line create physical feelings that express themselves emotionally and instinctively within you. We have always felt that design should connect with you in this truthful way – it should meet your inner nature as well as the outer one. It should be both useful and beautiful, and if it is, it will be alive and self-creating, which we feel is the definition of spirituality. And that is something that can – should! – meet you in a spoon, table, or deck of cards as much as it does in a church, a tarot, or any meditative object. 
I see that you draw inspiration from Celtic mysticism, renaissance illustrations, the beauty of nature and jungian psychology. Are there any "modern" things that you find personally inspiring? Film, music, artists, etc.? 
All of those inspirations continue to be modern, ha! But yes, we have contemporary favourites. We are big science fiction fans – 2001 A Space Odyssey is a work of art. As is the original Star Trek :). In music, we range far and wide: Metal, Folk, Classical, and pretty much everything in-between. We have an eclectic taste but it's very particular. Peter posts some of our favourites at the studio on our IG account and has a loyal following for those music finds. We also love Japanese printmaking and craft – both old and contemporary. And books!! I am a total book nerd. I'm currently reading "Figuring" by Maria Papova. An insanely inspiring, beautiful work. I also picked up the recent edition of "Fool" magazine, "The Japanese Issue" (in my second life I want to be a sushi chef), and every article was fascinating. Anything by the writer/photographer, Teju Cole. Love the fashion designer Simone Rocha. The Fine Artist, James Kerry Marshall. Relaxed modernism. The grateful invitation to enjoy the quiet, humble luxury of our neighbour's sauna on a cold winter night. Snowshoeing in the woods after a snowfall. Gardening. Our cat, TMobile. Our dog, Yuki. My nephew's drawings. Dark nights filled with stars! The inspiration list is endless. 
If you could go back in time and meet your childhood selves, what advice would you give to them?
Linnea: Bake more pies with Grandma B, but take it easy on the sugar – you don't need to be the mayor of Candytown. 
Peter: Follow your heart like you did the first time.
Is there anything you are currently working on that you would be happy to share with our readers? 
We have a new playing card deck called "Republic" coming out in the spring! We haven't created a new playing card deck for our studio in over four years, so it's pretty exciting for us. The deck's inspiration is Finnish/Nordic folk art and design. There is a large Finnish community in the Upper Peninsula, especially in our hometown of Republic – a Finnish settler built the home that now houses Uusi – how serendipitous is that! And we are excited to have a deck that bears the name of this local community that we love so much. We are also working on a special tarot project that we will be talking about more this summer :)
We thank Linnea and Peter for their time. You can find them on instagram @uusidesignstudio and online at www.uusi.us/ 
Check out our collection of Uusi Tarot, Oracle, and Books at www.greystreetbarcelona.com