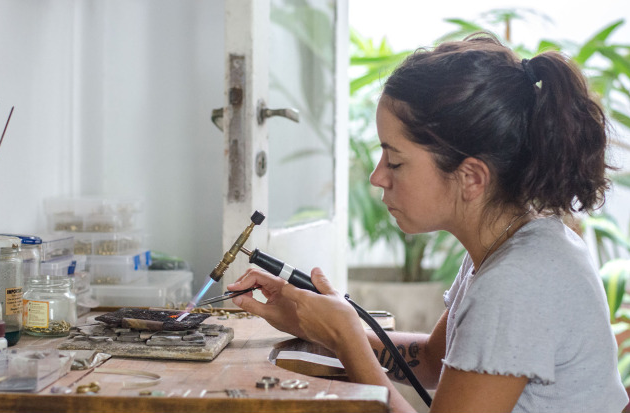 Grey Street meets Lu Bertolini, the soul behind Galaxia Ba
Among crystals and precious metals this week we talk to Lu Bertolini, who creates with his own hands all the elements that make up the universe of Galaxia Ba.
Tell us a little bit about yourself! Where are you from? What is your zodiac sign? What is your favorite food?
I'm from Buenos Aires, Argentina. I lived there all my life, and very recently moved to Bariloche, a city in the Patagonia region of Argentina in search of a slower pace of life and closeness to nature that is reflected in my art.
My zodiac sun sign is Cancer, I enjoy being at home and in the studio, alone, in silence or with music. Both spaces with very homey vibes reflect my energy, and I spend many hours in both. I also have Aquarius ascendant, an energy that makes me want to be in constant movement and change. Always very curious, wanting to learn new techniques, meet other artists and exchange knowledge! I am very quiet and very restless at the same time, quite a contradiction! I don't have a favorite food, I think it's because I like to eat so much that I couldn't decide on just one.
2. How do you make room for your personal care in your daily routine?
Mornings are very important to me. I make sure I always have time to wake up calm, with time to do all my morning rituals: drinking lemon juice, water and yes or yes mate. If I manage to do so, I meditate, write down what I dreamed or some reflection; I don't like to leave the house in a hurry, it always takes me a long time to leave it. I also dedicate a lot of time to physical activity, I enjoy it and it does me a lot of good.
Can you tell us a little bit about your work, how you started and what it means to you?
I could trace many, many beginnings in my relationship with jewelry and accessory design. When I was very young I made necklaces, earrings, bracelets, belts, eyeglass holders and even curtains with beads and colored beads (also known as beads); I made pins in the shape of butterflies with a wire base; I gave them all away or sold them. I gave names to my micro-enterprises and I used to sell them in public places, such as the door of my house or the club.
It is incredible to think that my work today was my way of playing as a child. I went through many stages, many ventures until I found crystals and goldsmithing. In 2014 I went to a store that had many crystals, and there I chose one for me (it was a Citrine!), I made a necklace with a chain that I had from my mom and soon all my acquaintances began to ask me to make them for them. That's how GALAXIA began, which in the beginning was called Andrômeda, but that's another story!
The day my clients started to ask me for rings I started goldsmithing classes, I never liked the idea of selling an object that was not made with my own hands. From that moment on a whole new world of techniques and ways of creating opened up for me, and I am still discovering and learning them today. My work for me means a big part of my life. I find a lot of satisfaction in creating, that it is well received on the other side and that it can also be my source of work.
I still freak out when I think about it twice. I have a very intimate and spiritual relationship with my business, my way of creating and even with the "business" side of the brand. GALAXIA is a great teacher for me, if I pay close attention to her she always has to teach me what is best for my development and evolution as an artist, as an entrepreneur and as a person. It really excites me and connects me with my purpose.
4. How do you incorporate crystals in your daily life? Which ones do you like to work with the most?
I have crystals all over my house and all over my studio. Whether they are from my personal collection or the ones I use for GALAXIA jewelry and kits. I have them all in different ceramic bowls and saucers in different corners.
Every now and then, whether I am introspective, doing a new/full moon ritual or going to sleep with the desire to put some of my energy into a particular aspect of my life: I grab one of them and hold it in my hands for a few minutes, put it in front of my eyes or lay it with me to sleep under my pillow. Sometimes they catch my attention because of their shape, sometimes because of their texture or color, or simply because I already know what properties each one works.
Among my favorites are: Rose Quartz, Lepidolite Mica, Apatite and Pyrite.
5. What is your greatest source of inspiration?
I find much of my inspiration in materials. From the raw material that captures my attention at that moment I discover what I want to achieve. The esoteric world and its symbols are also a big part of what inspires me when I create. An astrology teacher once said "the symbol possesses an energy field that exceeds our ability to comprehend it".
I like to believe that the object, in this case the jewel, has a transcendence that exceeds its materiality and the reasoning that we ourselves give it.